Meet The Dufresnes, the family behind the Denver Waldschanke!

We have always wanted our place to feel like a home away from home with good food, great company, and-of course- amazing cider!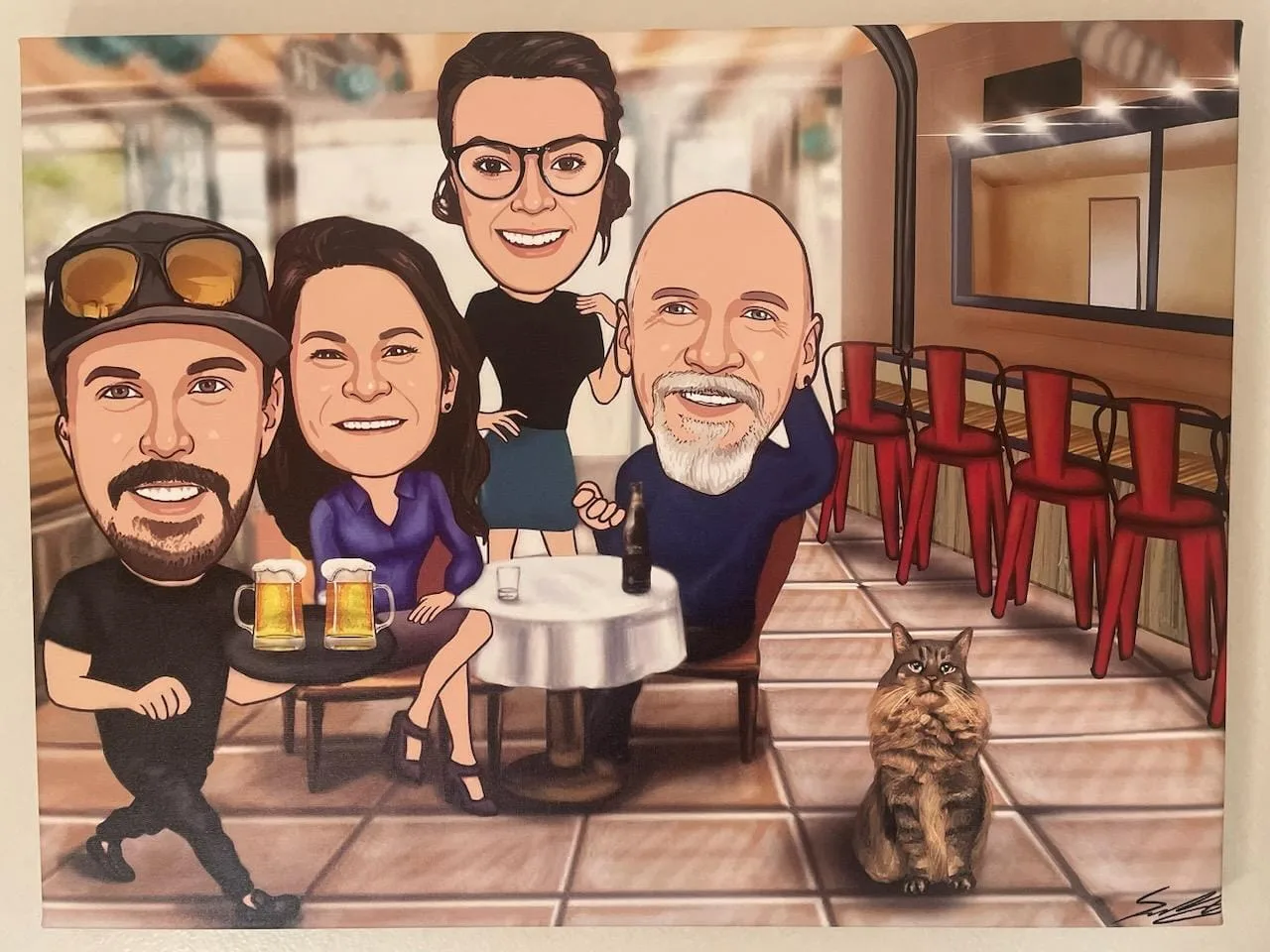 Food is an art. I'm passionate about baking - the tradition of it, making it, and sharing it.
Our inspiration came from owner Ruth's father who helped build out the original Waldschanke in Switzerland during World War II
After years of planning, we were so excited to celebrate our grand opening here in Denver with all of our friends & family
Just like many other small businesses, disaster struck for us when the first of the COVID-19 shutdowns began. We were lucky enough to survive with the help and support of our family, friends, and community.
After surviving the pandemic we are now thriving and have big plans for our future – won't you join us for the ride?
601 Bourke St, Melbourne,
Victoria 3000, Australia
Level 13, 2 Elizabeth St, Melbourne,
Victoria 3000, Australia
121 Central Ave.
Los Angeles, CA
Jl Graha Bintaro Utara 16, Jakarta
Banten 15227, Indonesia
Our Swiss inspiration comes from Co-Owner Ruth's father, George Mueller. In Romanshorn, Switzerland- at the young age of sixteen- George became a part of the original Waldschänke. This cidery, located on a forest preserve was aptly named "Waldschänke", meaning "forest tavern" in traditional Swiss-German.
During WWII, George assisted in digging out the cellar of the original Swiss Waldschänke; which became a place where the entire village would come to relax, drink traditional unfiltered cider, and enjoy each other's company.
When George- who we lost in March 2022 at the age of 99- had to retire and leave his legacy behind, we decided to carry it on here in the U.S., taking inspiration from his original unfiltered recipes while adding a modern Colorado twist. Our goal in opening this cidery in Denver, is to create that same welcoming atmosphere, where people from all walks of life can come together, connect, and enjoy a pint or two worry-free.
Our team consists of George's daughter Ruth and her husband John, along with their son Keane and his wife Kelley. We opened up shop in October of 2019 and were gaining traction when the first shutdown due to COVID-19 hit in March. Since then, we have been working tirelessly to maintain a safe, comfortable, and enjoyable space for our neighborhood along with creating some of the most diverse and delicious ciders in the city! Some haus favorites include:
Base Kamp [ original Swiss apple • OFF-DRY ]
Thurgau Dry [ a dry version of Base Kamp • DRY ]
Prickly Pear Punch [ cactus flower • OFF-DRY ]
The Northcider [ hopped apricot • OFF-DRY ]
Hot Fuzz [ peach habanero • OFF-DRY ]
Mad Lion [ cold brew infused • SEMI-SWEET ]
Limoncello Ginger [ fresh lemon and ginger • "SWEET" ]
Dark Cherry Bomb! [ cherry vanilla • "SWEET" ]
In addition to our cider, we are also the home of a small coffeehaus & roastery. Roaster Zach Green meticulously roasts our sustainably-sourced beans at a time, which yields some of the most flavorful coffee in town.
In addition to our cider and coffee, we also have our very own European/Swiss-inspired food truck- The EuroWagen– to give our customers a fully immersive (and delicious!) experience. We source all of our ingredients locally, from venders in and around our neighborhood to provide flavorful comfort food to our patrons.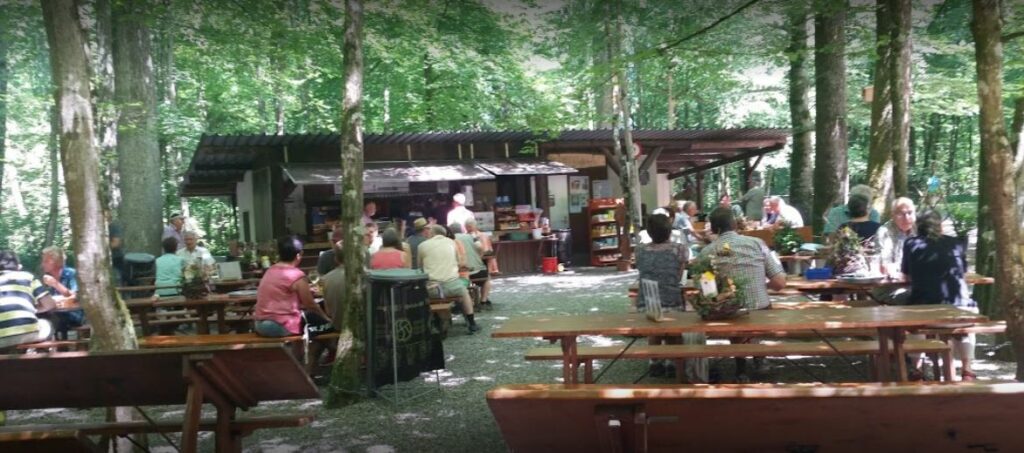 Summer time at the Romanshorn Waldschänke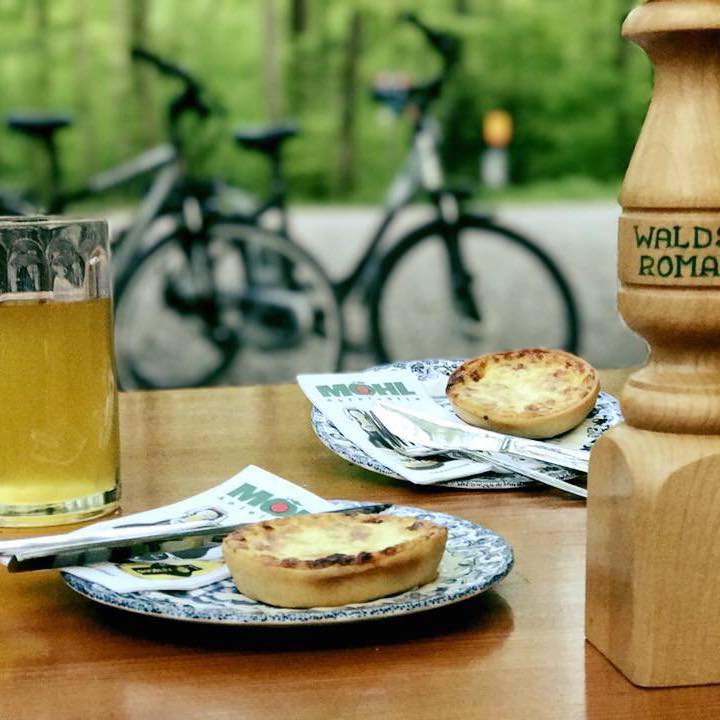 Food and drink in the forests of Switzerland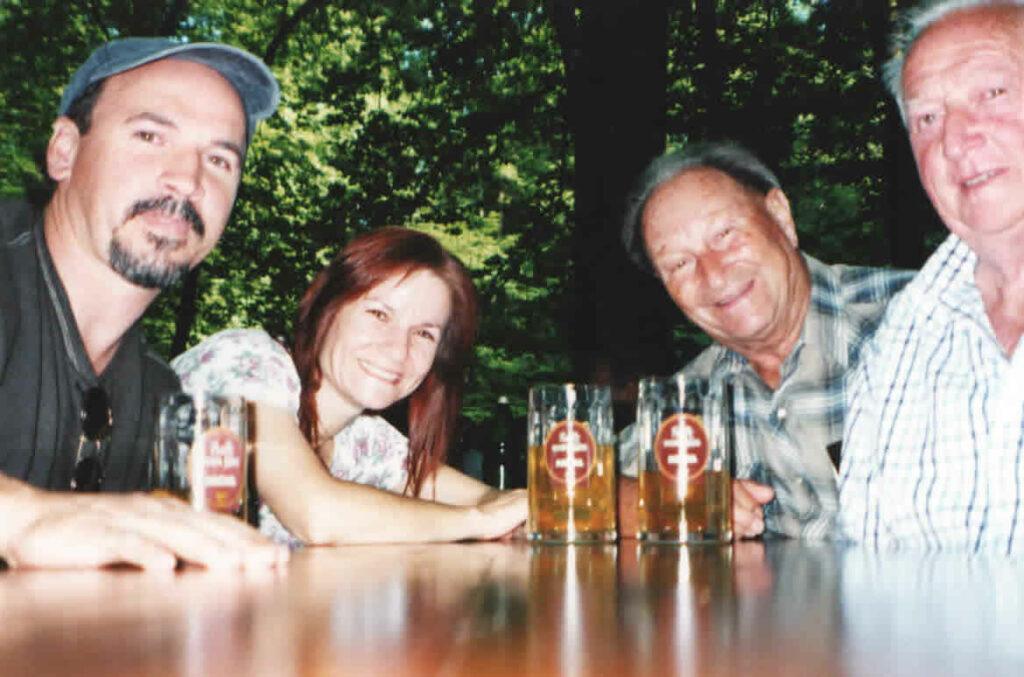 John, Ruth, George, and friend Erwin enjoy a pint together in Switzerland
Wonderful selection of Ciders to accommodate those who love Ciders and those who have yet to realize they do. Plenty to offer your every day beer drinker and your cider connoisseur. The staff is full of smiles, information and appreciation. The on-site food truck puts the icing on the cake. I'm happy to have visited and will be doing so repeatedly!